Backyard storage sheds have many and varied uses. Aside from storing gardening supplies and lawnmowers, one can find many interesting and eclectic uses for your backyard storage shed.
17 Innovative Uses for Sheds:
1. Go Green on Top!
Garden your way to a beautiful shed roof. Green roof gardens are all the rage. Why not use your shed roof to add a little more variety to your garden?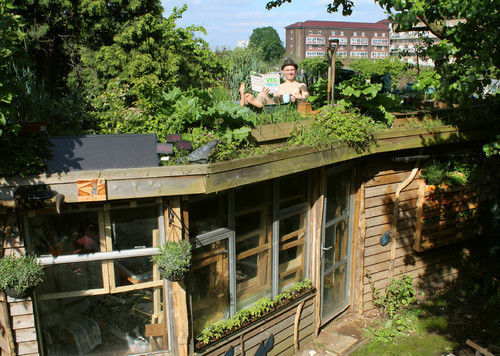 2. Artist's Studio: Need some space to be creative? Turn your storage shed into some place for inspiration. An artist's studio is just one innovative use for your shed.
3. Basketball Court: Get your basketball game on with a large shed. Even Michael Jordan himself would be proud of this court.
4. Firewood storage: Store firewood. With winter coming, a stockpile of firewood will be much appreciated on cold winter nights.
5. Build a custom playhouse/playset for your kiddos. We might be able to help you construct something like this considering we design sheds too!
6. Musician Studio: Start your first band. Once you're good enough, you can move from the shed to the garage! Our lineup of gable styled garage buildings would be perfect for this concept.
7. Spooky Shed: Halloween is coming, use your backyard shed to bewitch and bewilder the neighbors with your haunted house!
8. Pumpkin Patch: Set up a pumpkin patch.
9. Santa's Workshop: And in keeping with the holiday theme, set up Santa's Workshop in your own backyard. This will be a great place to serve hot cocoa to the kids and give the holidays a more magical feel.
10. Garage: Once you're finished up for the holidays, your storage shed can be turned into a, a, a, garage! Who needs months of construction to add on to your house when a personalized storage shed can be the perfect way to keep your car safe from the elements. Check our garage sized sheds for inspiration!
11. Car Shed?: Ok, so say you don't need to use your shed to store your car, but you want to turn it into a car? Okay. Here ya go. You won't (oddly enough) be the first.
12. Portable Building: Speaking of wheels, let's say you've always dreamed of owning an RV, but it's just out of your budget? Put your shed on wheels and take that dream vacation! Or retirement.
13. One of a Kind Shed: Wheels aren't the only way to travel with a shed. This boat shaped shed is truly innovative! I don't think you're actually supposed to take it out on the water though.
14. Boathouse: When it comes to boats, the shed is probably better used as the boat house.
15. Shed with a Second Story: Thinking of setting up a campsite? Putting together camps for kids can be a big undertaking. Sheds make great dorm living on big or small scales. Our barn styled garage sheds might be the perfect option for you if you want a second story…
16. Space Shed: For the space lover, this "space station in shed" is a dream come true!
17. Community Garden: Shed's aren't exactly big news when it comes to gardening, but add community to the word gardening and you've got an innovative neighborhood project. It will need a shed, guaranteed.
Creativity and innovation inspire all shed owners. What's your favorite way to use your shed?