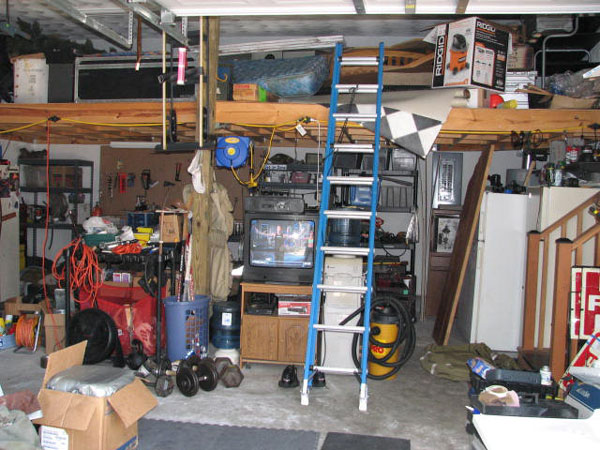 Shed Organization Tips:
Sheds have one common function in life; storage. Most people store their lawn equipment and tools in sheds. The idea is to avoid having a garage that looks like the one on the left.
If you have a garage that looks similar to that picture, don't feel ashamed. Millions of Americans constantly fight for space in their garage. Unfortunately, most Americans lose the battle. We try to lean columns of boxes on top of each other and hurdle over lawn mowers. The end result is cuts, sprains and the feeling of frustration after losing the tape measure.
The good news is that you don't have to live with FGS (Fear of Garage Syndrome). The only remedy to solve your illness is purchasing a shed. If you already have a shed, there are many ideas and accessories you should consider that can maximize your shed space.
Buy a Space Saving Shed that Actually Fits Your Needs
Determine what you would like to store in the shed. Will you want to store your lawn mower, shovels and other gardening equipment or use it as a guest house for your in-laws (not recommended)? Once you answer that question, arrange all of your tools in a similar fashion to the image on the left.
Next, after you find your measuring tape in the garage, measure the dimensions of this tool arrangement. This method will give you a rough estimate on how much floor and wall space you may need for your shed. Sheds come in many different sizes such as:
You also need to consider how much headroom you are going to need. If you're over 6 feet tall and planning on working inside your shed frequently, consider purchasing a taller shed. Remember that our sheds last for a long time and if your shed is not tall enough for your needs, you may regret it many years later.
Customize Your Shed with Shelves, Workbenches & Lofts
The fun part of maximizing space in sheds is finding the right add-ons and accessories. As any famous architect would say, the key to conserving space when constructing buildings is to build up. If you are tired of walking around your maze of tools that are lying on the floor, there are ways to fix that.
Before you add any options to your shed, develop a plan of where to install your shelves, hangers and workbenches. Backyard Buildings and More have pre-built shelves that can be easily mounted to the wall of sheds. Shelves allow you to organize your tools and other items away from the ground which opens up more floor space.
Lofts give you even more storage space. Mounted near the top of the ceiling, lofts give you options to store equipment that you do not use regularly such as bags of grass seed and fertilizer.
Lastly, you can add a heavy duty workbench on your shed. In addition to storage, a workbench can be a great place to complete tasks such as painting, woodworking and other hobbies.
If you need more storage space in your shed, consider installing a strong peg board and hooks to hang tools and other equipment*. Please consult a professional if you are unsure of what type of hook or peg board to use.
If you follow these guidelines, you should have plenty of space to navigate inside your shed. If you have a large shed and already installed storage accessories and still do not have enough room, we suggest that you sell some of your toys. View our online selection of large sheds by clicking here.
-Backyard Buildings and More
Your Storage Solution Experts
>> More Shed Organization Tips